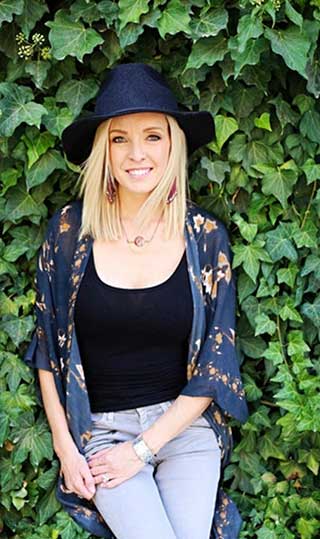 About Michell
Michell Powers is a spiritual life coach and energy medicine practitioner. She has happily dedicated her life to helping others truly connect to their spiritual gifts and their divine destiny.
Michell was born in the beautiful mountains of Missoula, Montana. She was raised with the love and support of her amazing parents and two younger sisters.
As a young adult, she moved to Salt Lake City where she met her soul mate. For the last 19 years they have been raising their three amazing boys and over the last three years they have welcomed a new beautiful daughter-in-law and two sweet little grandson's into their family.
While priorities have always kept her family's needs first, her soul always knew she was meant for even more. Since birth, Michell was born with very special gifts from God, allowing her to see, hear and communicate with angels and loved ones on the other side. With constant preparation for the day she could share her gift with others, it wasn't until 2011 when her new journey finally began.
Though spiritual gifts cannot be measured in way of a plaque or degree, Michell has been praying, seeking and learning the additional knowledge required to amplify her gifts. She is most passionate at combining energy medicine and Spiritual life coaching tools in harmony with her ability to communicate with angels all around us.  With her unique combination of gifts and knowledge, she has connected many others to their spiritual gifts and assisted in strengthening their connection with heaven.
Michell enjoys using her gifts to bring light into the world and empower those around her. Often gifts go undiscovered or we can't figure out how to use them. Through inspiring classes, events, relaxing retreats, and online courses you will receive the guidance you need to begin your new journey!
Michell's Bio
I've been able to see, hear and communicate with angels all of my life.  I can still see glimpses of the day I was born, being in the hospital room and seeing angels fill the room. Angels were talking to the doctors, helping them figure out what to do, helping the nurses and my parents. Consoling them because I was their firstborn and they were worried when they saw I had these physical issues. The angels were helping me too. They were all around me helping me transition to this physical world.
Everyone is born with unique talents and abilities. Some abilities are learned over a lifetime while others are very apparent at the start. All gifts are equal in the eyes of God.
What's unique about me
I was born with a deformity in both feet caused by amniotic band syndrome. This required multiple surgeries in my early years. During these difficult times, I had a sweet little angel that was with me for quite a while. This angel encouraged me to keep active and exercise so that I could get stronger and stronger.
Returning home after one particular hospital visit, I stopped breathing and my spirit left my body. My parents were in a panic but it wasn't my time to die. After I was resuscitated, my spirit quickly re-entered by the body.
Early childhood
As a young child, I thought everyone must see and hear what I do. In first grade, I started talking about it openly and got such strange looks from people. I quickly figured out that everyone wasn't seeing and hearing the same things.  I talked to close friends and family about what I could see. Most people were uncomfortable discussing it. Thankfully, I could confide in both of my grandmothers. They listened intently as I shared my experiences. They didn't question me but embraced my gifts and supported me. I felt safe sharing things with them. Fortunately, they encouraged me to pray and seek answers to better understand my gifts.
Teenage years
Growing up in Missoula, Montana my parents raised me to be active and enjoy the outdoors. I have such fond memories of adventures in the forest with a river running through the cottonwoods.
I confided in a couple of close friends about my gifts. Honestly, I thought this gift was the biggest curse. I went through a rebellious stage in high school where I didn't want to have anything to do with this gift and tried to ignore it altogether. I prayed that God would take it away because it made me too weird and I already felt different because of my feet and legs. I questioned why I got stuck with this crazy life.
Marriage
When I met my husband Shiloh, I knew he was 'the one'. We clicked right from the start. Even though it was love at first sight, we kept a few secrets from each other in the very beginning.  He was married previously and had a young son. I had scars on my feet and legs that made me feel very self-conscious. In fact, I thought I'd never meet someone who would be attracted to me because of my disfigurement.
My biggest secret was my experience with angels. Oh, I tried telling him bits and pieces over the years. But it wasn't until thirteen years into our marriage that the right timing presented itself and he was finally ready to listen and hear the details. My angel experiences are a major part of who I am. Since that time, he has fully supported me in this work. I'm so grateful for his continued love and support.
Motherhood
Part of my life's mission is being a mother and raising my sons. I love being a mother, it's what I dreamed about my entire life! Having a family is all I've ever wanted. My children love and support me 100% and don't even think my gifts are weird. They often ask me about the angels and what I see and hear.
Sharing angel messages with others
For much of my life, I've had angels ask me to communicate a specific message to a loved one they've left behind. They can be very insistent, especially when they haven't been able to get through to their loved one effectively. I love sharing these angel messages with people and helping them find peace.
Why now?
People need answers. We live in the information age. You'd think it would be easy to find answers to almost anything. However, in this time that we currently live in, people feel more disconnected and unclear than ever. Disconnected from their true purpose and unclear about the relevance of love.
We can get distracted and lose sight of who we are and what we're truly searching for.
I want you to know that we're not alone. We're constantly surrounded with so much love and support. Our guardian angels and family members who have left this life are with us. They love us and are cheering for our success and progress.